Mykonos casino is among the top land-based casinos in South Africa, offering exquisite gambling experiences. At Mykonos casino, gamblers get a taste of Greece without leaving the country. The land-based casino is located at Langebaan in the Western Cape and is operated by renowned Tsogo Sun, popular gaming, hotel, and entertainment group. Tsogo Sun is known to provide enriching experiences to visitors who frequent their gaming resorts. You should rest assured that everything at Mykonos casino is tailored to suit the taste of every gambler. If it is your first time here, note that there are up to 320 slot machines and six table games. Several progressive jackpots at Mykonos casino will supplement your quest for extended game time. Note that the land-based casino is licensed by the Western Cape Gambling and Racing Board and bars persons below the age of 18 years from joining the platform. Find out more about the gaming resort in this Mykonos casino review, one of the many land-based casinos in South Africa.
Mykonos Casino Contact Details
New visitors planning to visit Mykonos casino should take note of the casino resort contact details below.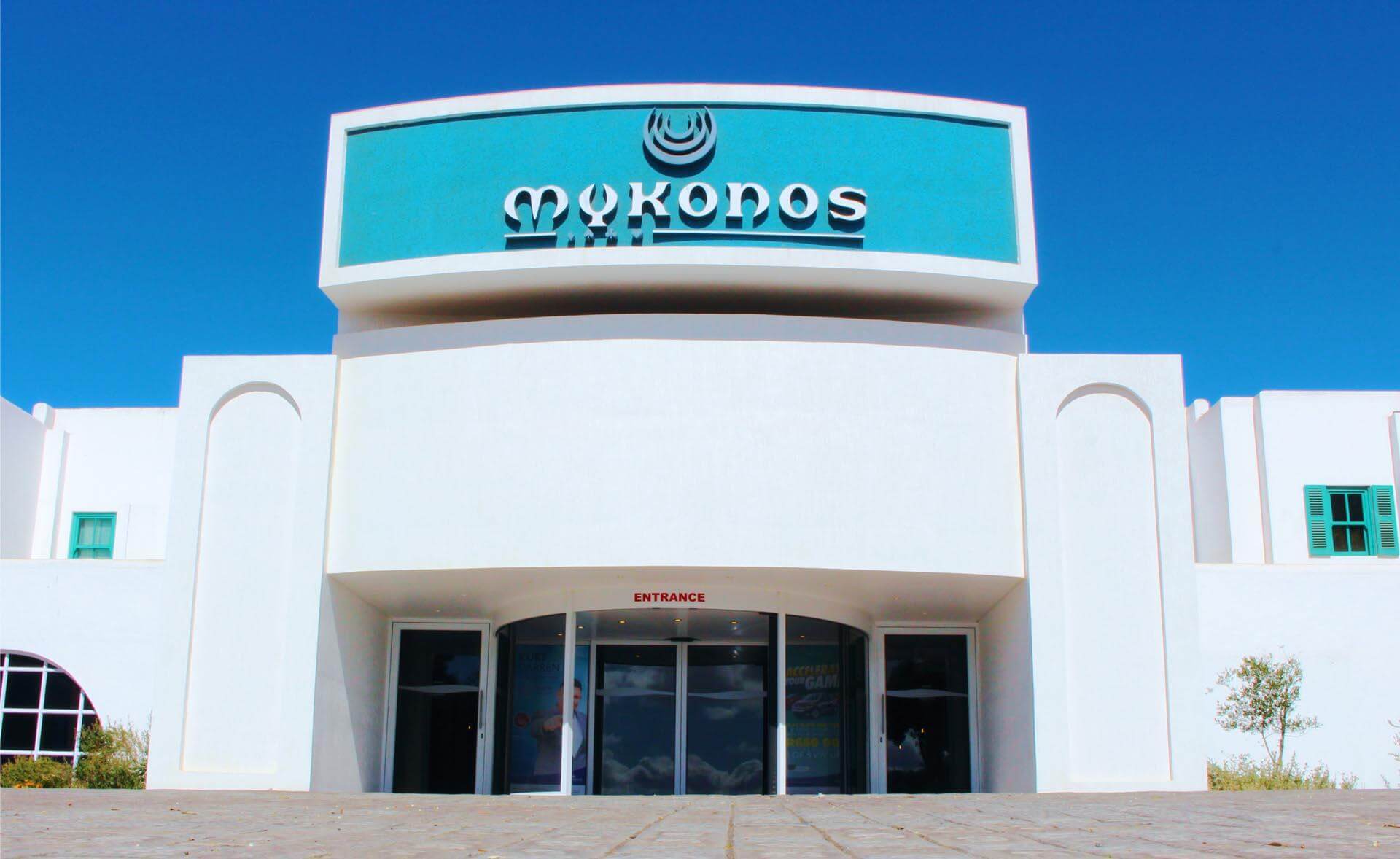 Source: clubmykonos.co.za
| | |
| --- | --- |
| 🌍 Province | Western Cape |
| 📍 Address | Leentjiesklip Road, Langebaan, Western Cape |
| 📞 Contacts | Phone: +27 (0) 22 707 7000 Email: [email protected] |
| ⏰ Open Hours | From 6.00 am to 8.00 pm |
| 💻 Website | https://www.mykonoscasino.co.za |
| 🎲 Table games | 6 |
| 🎰 Slots | 320 |
Mykonos Casino Games Selection
The ambient location of Mykonos casino makes it worth visiting, especially if you are looking for a holiday getaway that has everything you need to stay entertained in one place. But first, you should either provide a membership card or valid South African documentation to be allowed entry.
Gaming at Mykonos casino resort comes in all shapes and colors. You can start by playing any slot machine from among the 320 options available. Notably, gamblers can play slot machines in different locations (smoking and non-smoking areas) and denominations depending on their preference. Moreover, you can play Mykonos casino slot machine games in different coins and lines. And if you would want to try your luck on progressive slots, there are plenty of them at the casino.
For table games enthusiasts, Mykonos casino has blackjack and roulette. Note that gaming chips are available for this option. Each table has a gaming limit label. There are two variants of blackjacks, with the minimum bet pegged at R50 and R100 for the other. The minimum bet for the table game starts at R10 or up to R25.
Poker tourists also have a place at Mykonos, and so are novice punters. Play poker at Mykonos casino starting from R25 or up to R250 as the maximum stake. In a nutshell, you have lots of Mykonos casino games from which to select a befitting one.
Why Play Casino Games at Mykonos
While you can always visit any of the Tsogo Sun Gaming resorts for an exhilarating experience, there is always a reason why some gamblers prefer casinos at club Mykonos to other establishments. Here are notable reasons why you should play at Mykonos casino:
Mykonos casino tables may not be many, but the modest gaming limit and handsome payouts are worth the risk.
You can play your favorite slots in different denominations, lines, and coins, which make casino Mykonos accommodating to everyone.
Like every other Tsogo Sun gaming resort, casino club Mykonos has a reward program for its members. With the membership card, players and visitors enjoy the best prices and offers at the gaming resort.
The ambient coastal location of Mykonos casino is everything you need to relax, dine, and wine.
Dining and Bars on the Resort
As is the case with other Tsogo Sun casino establishments in South Africa, dining at Mykonos comes with all the glamour you need to unwind. Café Vigour is a new Mykonos casino restaurant and offers both local and international dishes at affordable prices. You can also dine at the Black Pearl restaurant for a tasty buffet or get your breakfast at the Marisol Diner, all within Mykonos casino resort.
Accommodation
Given the location of the casino at club Mykonos, you would expect to find some of the best accommodation suites within the establishment. Unfortunately, there is no Mykonos casino hotel, save for the option of booking Tsogo Sun hotels in the Western Cape and other provinces. You can still choose to stay in guest houses, caravan parks, and lodges nearby. For a more traditional lodging, a Greek Kaliva should suffice.
Entertainment
Mykonos casino is primarily an entertainment establishment both for average and experienced gamblers. Live music, comedy shows, and cocktail parties are some of the things you should not miss while in the casino. Moreover, table tennis, golf, and water sports always provide the much-needed diversion after a day of playing your favorite casino games. For families, Mykonos kids Arcade and Candy corner is a fun-filled location for everyone.
Promotions and Rewards
Playing Mykonos casino games is not enough. Every penny spent in the resort earns you some rewards to boost Mykonos casino payouts. But first, sign up for the reward card and enjoy the endless benefits that come with full membership of the casino. Earn points and use them to cut down your expenses within Mykonos casino resort. Members also receive discounts with the Mykonos casino reward card at shopping points within the resort and also spend points at the spa and on show tickets.
Directions
Mykonos casino is located at Langebaan in the Western Cape Province and is only an hour's drive from Cape Town. The casino resort is situated along Leentjiesklip Road, Langebaan, in Western Cape. The location is accessible by a different road, a convenient location for everyone who wishes to visit for the first time.
Overall Experience of Mykonos Casino
Mykonos casino South Africa is a dream gambling destination. For thousands of South Africans that frequent the casino resort, its location is everything you need in a perfect getaway. And while they do not have many casino games to match the marvelous establishment, available slots, poker, progressive jackpots, and table games offer excellent gaming with modest payouts. The resort also offers a perfect holiday getaway for families looking for the best location in the Western Cape.
Mykonos Casino COVID Restrictions
Mykonos casino emphasizes observance of COVID preventive measures while at the establishment. You should use hand sanitizers at strategic locations within the establishment regularly. Screening at the reception ensures that every person who enters the resort is COVID-free. Every staff member must use surgical gloves to prevent the spread of the virus. Print and electronic media at the facility further sensitize members on the need to observe COVID protocols.