1ForYou Voucher Casinos: How to Use 1Voucher in Online Casinos
Real money online casino gaming should be hassle-free. These days, players are constantly searching for safe, fast, and easy ways to get the most out of their gaming experience. Of course, this includes finding convenient banking options to fund their activities. Fortunately, 1Voucher casinos offer a premium and trusted solution to this need.
This popular prepaid payment solution has received overwhelmingly positive reviews in South Africa due to its convenience and safety. It is accepted by some of the best online gambling websites in South Africa, including platforms like 10bet, Betway, Betfred, Fafabet, PlayLive, and LottoStar. The banking system's ranking is further reinforced by the fact that some online casinos actively recommend its use for making deposits.
In this review, we'll focus specifically on 1ForYou casino sites in South Africa. We'll explore how to use this payment method at a 1Voucher casino and also examine the top gaming sites that accept 1Voucher deposits.
| | |
| --- | --- |
| Banking method | 1ForYou Voucher |
| Parent Brand | Pepkor Holdings Limited |
| Year Established | 2019 |
| Minimum Deposit | R1 |
| Maximum Deposit | R1500 |
| Transaction Speed | Instant |
What Is 1Voucher?: Introduction to 1Vouchers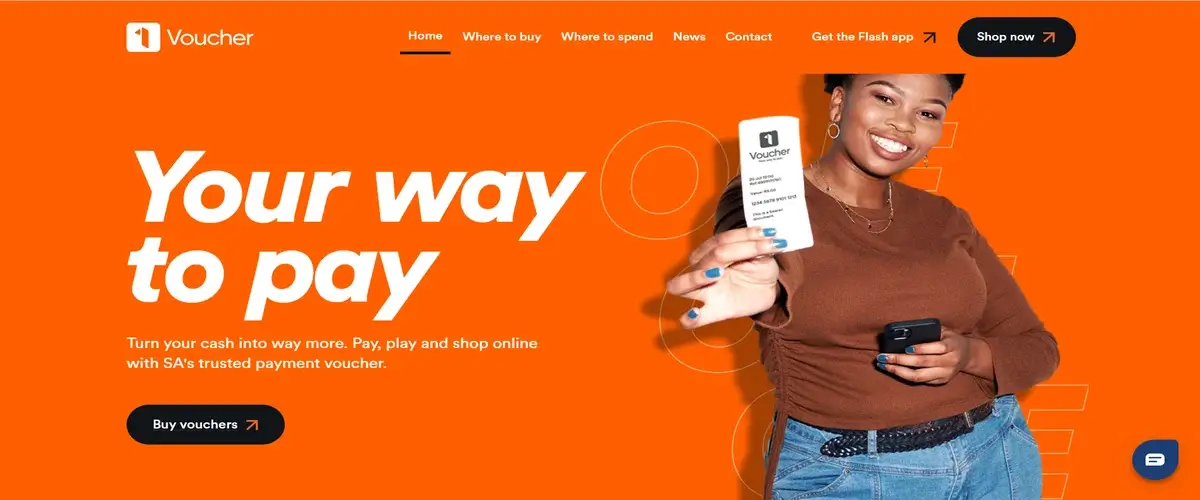 Understanding the history of a payment method is essential in gauging its reliability and legitimacy. This holds true for the 1ForYou Voucher online prepaid banking method introduced by Pepkor Holdings Limited back in 2019.
1ForYou is a product belonging to the Flash Group, a prominent brand widely recognized among South African residents. As the self-proclaimed "largest informal retail network in Africa", the Flash Group operates a vast network of branded stores throughout the region.
This popularity and accessibility also extend to the 1Voucher, helping it rapidly establish itself as a preferred banking option at South African casinos. Presently, it is accepted by approximately 49 online casinos and sports betting sites, all of which feature solid market coverage and exciting libraries of 1Voucher online slots.
How It Works and How to Redeem a 1ForYou Voucher?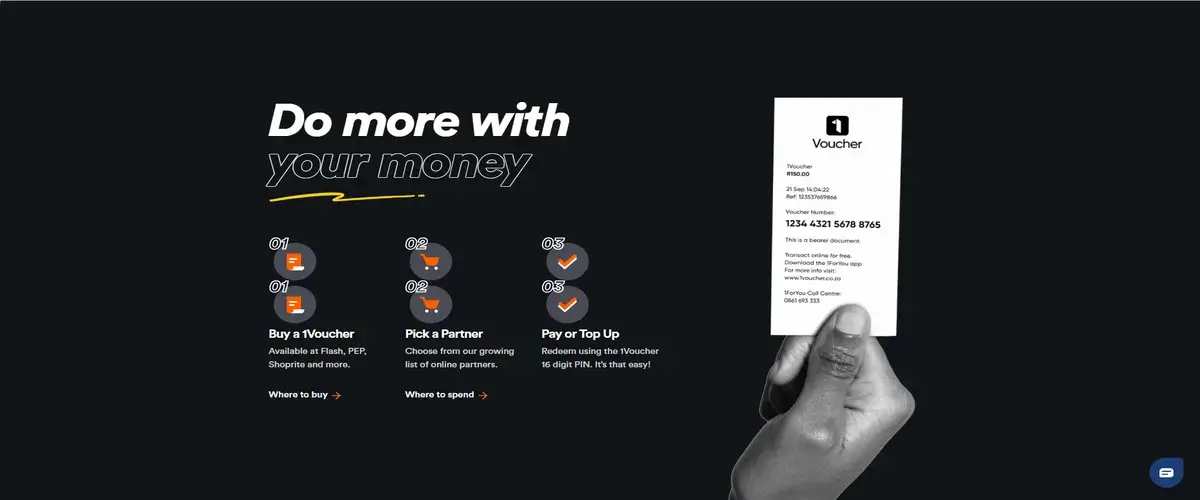 The first step involved in using 1ForYou vouchers is to buy them from any of the retail locations where they are sold.
Each coupon contains a 16-digit number, which is what players will use to redeem the coupon's full value at a 1ForYou casino online in South Africa. Simply enter the PIN number on the casino's cashier page, and the amount purchased will be immediately added to your balance.
Where to Buy 1 For You Vouchers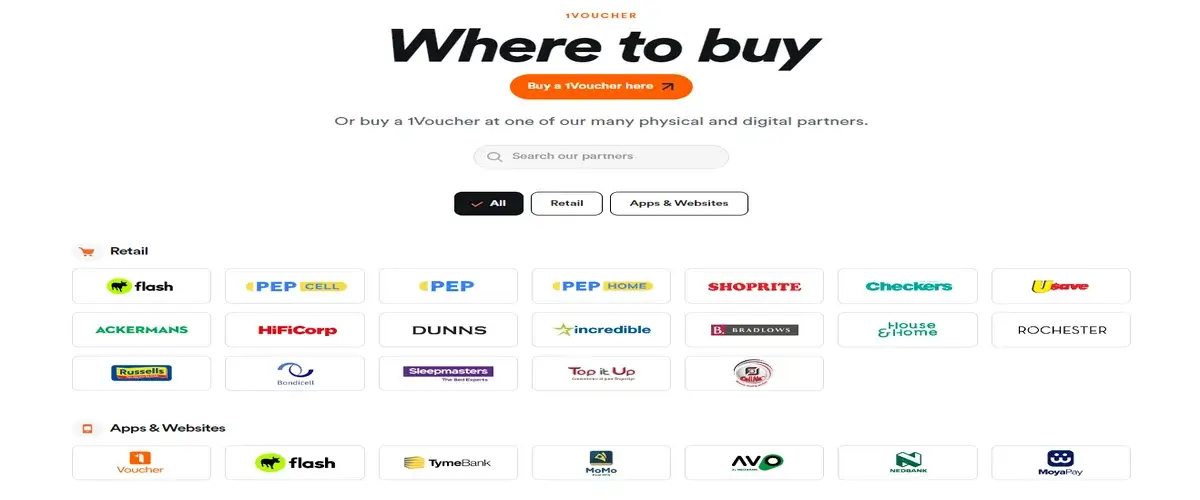 There are two ways to obtain 1Vouchers: either by purchasing them with cash at a Flash shop near you or through online channels. This section of our 1ForYou casino guide will focus on the more popular method, which involves buying prepaid tickets from retailers.
Stores to Buy 1 For You Voucher
1Voucher has established a vast network of physical partners in South Africa. The company has collaborated with more than a dozen retail outlets, making their vouchers available at thousands of store branches across the country.
Here's a full list of 1Voucher stores in South Africa:
Flash
PEP Stores
Shoprite
Checkers
USave
Ackermans
HiFi Corp
Dunns
Incredible Connections
Bradlows
House & Home
Rochester
Russels
Bondicell
Sleepmasters
Top it Up
Cell Air
These are the apps and websites where the vouchers can be purchased:
1Voucher
Flash
Tyme Bank
MoMo
AVO
NedBank
MoyaPay
How Much Do 1ForYou Vouchers Cost?
Different stores have varying minimum voucher purchase amounts for 1ForYou coupons. Pep and Ackerman stores, for instance, require a minimum of R30, whereas Flash shops offer 1Vouchers for as low as R1. Meanwhile, Shoprite and USave outlets sell them with a minimum denomination of R5.
Something else to take note of is that a 1 For You voucher is a bearer document, similar to currency notes. This means whoever physically holds the voucher is considered its owner and entitled to retrieve its full value. Ergo, if your 1Voucher gets lost or misplaced, you'll be unable to replace it.
How to Buy 1ForYou Voucher Online
The 1ForYou website has always offered one of the more straightforward pathways to a 1Voucher online purchase. However, the website's sales portal is currently undergoing improvements, so customers will not be able to purchase vouchers there. Luckily, there are several alternatives, such as the Flash App. We've outlined the steps involved in buying a 1Voucher online on this platform:
Download the Flash app from the App Store or Google Play Store.
Go to 'Shop Now' and enter the 1Voucher amount you wish to purchase.
Select a preferred channel for receiving the voucher, either SMS or email.
Complete the purchase by paying with a bank card.
After payment, you'll receive the 16-digit 1Voucher PIN through your chosen method.
In addition to the Flash app and 1ForYou website, you can also obtain a 1Voucher lotto from Tyme Bank, MoMo, Avo, and MoyaPay. However, please note that purchases made through Tyme Bank will incur an additional fee ranging between R2 to R3.
How to Recharge a 1ForYou Voucher
Follow these steps to load your voucher at South African 1ForYou casino sites:
Visit a casino website that accepts 1Vouchers as a deposit method.
Go to the Banking section and choose 1ForYou as your preferred payment option.
Enter the 16-digit PIN number from your voucher.
Hit the 'Submit' button to conclude the transaction.
The voucher value will instantly be reflected in your online casino account.
How to Make Payments with 1Voucher on Online Casinos and Betting Sites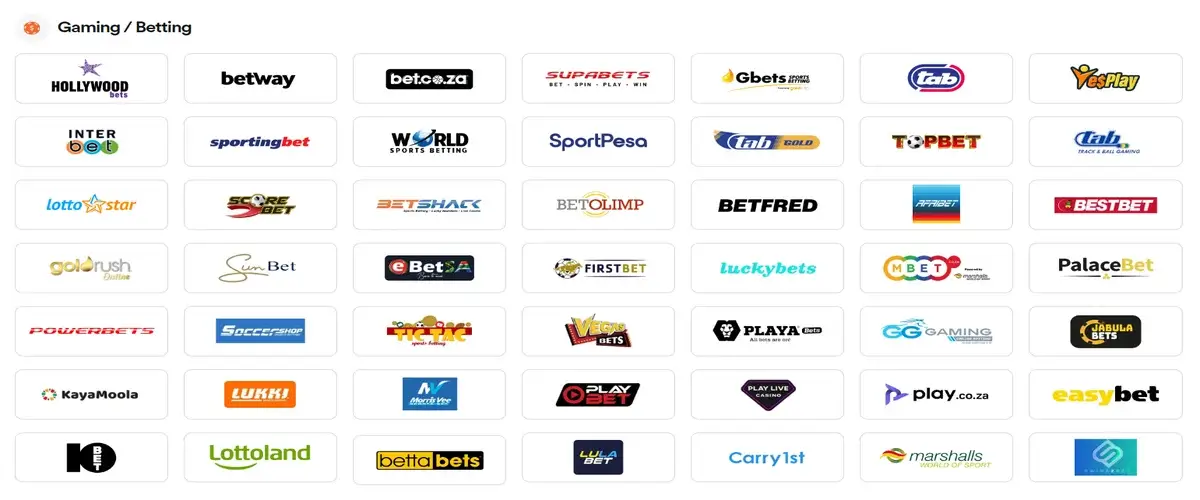 The 1Voucher casino payment method offers seamless usability for both new customers and experienced players. Here are the steps involved in making payments on some of the top 1ForYou voucher casinos in South Africa.
Using 1Voucher on 10bet
Follow these steps whenever you're looking to top up your 10Bet account using 1Voucher:
Open the 10Bet website or mobile app and sign in with your credentials.
Head to the 'My Account' > 'Deposit' tab.
Select 1ForYou and type in the amount you wish to deposit.
Click on the 'Deposit' button, then enter your 16-digit 1ForYou free voucher PIN.
Provide your mobile number as prompted and click 'Submit'.
Using 1Voucher on Fafabet
Making deposits to Fafabet casino is straightforward with 1Vouchers:
Log in to your Fafabet account.
Access the Banking page and open the 'Deposit' tab.
Click the 1Voucher icon among the options displayed.
Enter your voucher amount and its 16-digit code, then approve the transaction.
Using 1Voucher on Betfred
Betfred is one of South Africa's most popular sports betting sites, so it's not surprising that they allow 1ForYou vouchers for deposits.
Log in to your Betfred account and click on 'Payments'.
Open the 'Deposits' section, then select the 1Voucher icon.
Enter your 1ForYou deposit amount and the 16-digit coupon code.
Finalize the payment and wait for it to reflect in your betting account.
Using 1Voucher on Betway
Betway ranks as one of the best 1Voucher online casinos in South Africa, and depositing funds to the site, it's pretty easy. Note that Betway also allows 1ForYou voucher withdrawals.
Open the Betway website or mobile app and access the Deposit tab.
Choose the 1ForYou deposit option and enter your 16-digit voucher PIN.
Verify that you've entered the 1Voucher Betway code correctly.
Complete the payment using the 'Redeem' button.
Using 1Voucher on Bet.co.za
Bet.co.za is yet another major online betting player in South Africa that offers a 1Voucher payment option:
Login to your Bet.co.za account and click the 'Deposit' button.
Tap the 1ForYou logo to select this deposit option.
Enter the voucher deposit amount and PIN as prompted.
Click 'Pay' to confirm the transaction, and you'll be all set to start playing your favorite 1ForYou voucher slots.
How Does the 1ForYou Voucher Compare to Other Banking Methods
| Payment Method | Transaction Fees | Transaction Speed | Safety | Customer Support | User Experience |
| --- | --- | --- | --- | --- | --- |
| 1ForYou Voucher | 0% | Instant | Excellent | Toll-free Call Center Email | Excellent |
| OTT Voucher | 0% | Instant | Excellent | Phone desk Email | Good |
| Ozow | 0% | Instant | Good | Call Center and live chat | Good |
| Blu Voucher | 0% | Instant | Excellent | Phone desk Email | Excellent |
| EasyEFT | 1% | 2-5 business days | Good | 24/7 live chat support | Good |
| SID Instant EFT | 3-5% | Up to 2 business days | Good | Email and 24/7 live chat | Good |
| Mastercard | 2.5% | Up to 5 business days | Excellent | 24/7 live chat | Good |
| Visa | 2.65% | 2-5 business days | Excellent | 24/7 live chat | Good |
| Astropay | 0% | 1-3 business days | Good | Phone desk Email | Good |
| Bitcoin | 0% | Instant | Excellent | – | Good |
Advantages and Disadvantages of 1Voucher
1ForYou casino deposits have revolutionized convenience. The entire process of acquiring vouchers online or from retailers and redeeming them is streamlined and remarkably straightforward.
Advantages
Easy to Use – Recharging 1Vouchers at South African casinos is as simple as entering a 16-digit code.
Quick Payments – Casino 1Voucher payments are processed instantly, and redeeming them only takes a few seconds. We conducted a 1ForYou voucher Betway test, and the entire deposit exercise took approximately 18 seconds from start to finish.
Highly Secure – There's no risk of compromising your sensitive financial details when gaming with this payment service, making it a highly secure option.
Widely Accepted – All the best SA casino and betting sites embrace 1 Voucher online as a banking option.
Offers Versatility – 1Voucher casinos are ideal for punters, regardless of the preferred payment method.
Disadvantages
Impossible to Replace – Physical vouchers cannot be replaced if they get missing or the code becomes inaccessible.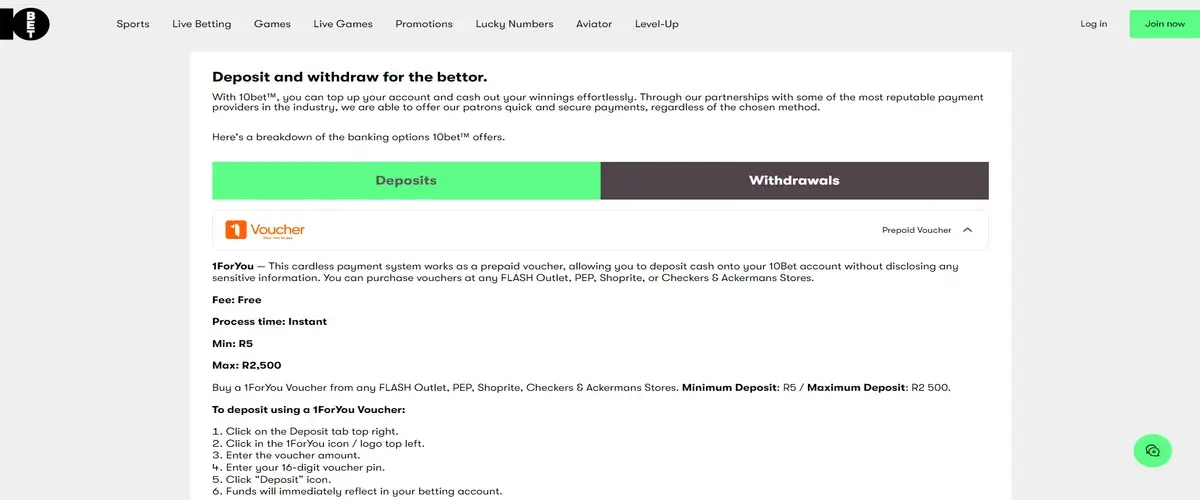 Are 1ForYou Voucher Money Deposits Safe?
1 Voucher casino deposits rank among the safest banking services in the iGaming industry due to their minimal online footprint. They completely eliminate the need to enter your financial information at an online casino, helping to solve a key worry point of most punters.
The 1ForYou brand is also associated with reputable partners like Shoprite, PEP, and Ackermans, providing added reliability. They offer a dedicated helpline and email support team to assist customers through any 1ForYou voucher not working situations.
CasinoHEX Verdict on 1ForYou Voucher
Services that function with minimal fuss are always valued in the world of online casino gaming and sports betting. When playing casino games, players want to unwind, destress, and enjoy quality entertainment with the chance to win real money. Betting sites with 1Voucher help facilitate this hassle-free gaming experience by providing a user-friendly funding option.
All essential factors considered, we rate this payment system a solid 9/10. It boasts a remarkable range of benefits and negligible downsides.
FAQs
Where Can I Purchase a 1Voucher?

You can purchase a 1Voucher at any Shoprite, Flash PEP, or Checkers vendors from wherever you may be in South Africa. Alternative retailers include Usave, Ackermans, HiFi Corp, Dunns, and Rochester. We've compiled a full list of locations where you can purchase a 1Voucher in an earlier section on this page.

Where to Use 1ForYou Voucher?

You can use your 1ForYou voucher at several casinos and betting sites in South Africa. The list of eligible platforms where you can pay with a 1Voucher includes some of the very best available to SA punters. You can also use these vouchers to make payments on Showmax, Spotify, and Grey Dot.

Which Casino Games Can I Play Using 1Voucher?

The simple answer is that with 1ForYou coupons, you can play any game without restrictions. All you need to do is find an eligible 1Voucher casino, and you're free to try out its entire games library. Popular slots that you can play using 1Voucher include Gonzo's Quest and Starburst.

For How Long Will My 1ForYou Voucher Be Valid?

There should be no concerns about your 1Voucher expiring before you can redeem it. They have an extended validity period reaching up to 3 years. Even if you're looking to buy a voucher and store it for a while, 36 months is more than enough time to redeem them.

What Happens If My 1Voucher Is Lost/Stolen?

This is one, and perhaps the only, drawback that we can level against a 1ForYou coupon. If it gets lost or stolen, retrieval is impossible, as these vouchers are bearer documents. It is, therefore, crucial to handle the vouchers with care until you are ready to redeem them.

Can I Use 1Voucher to Deposit Into My Casino Account?

Yes, you can. It's a rather simple procedure that involves signing in to your casino account and opening the deposit tab. You should see a range of methods, including 1Voucher. Choose that option, then proceed to enter your 16-digit voucher PIN. Your deposit should land in your gaming balance instantly.

Can You Recommend the Best 1ForYou Casinos in South Africa?

For an excellent gaming experience, we recommend 10bet, FafaBet, BetFred, Betway, and Bet.co.za. We've run extensive checks on these 1Voucher sites and found their performance to be satisfactory across the board. They offer a solid variety of games, generous welcome bonuses, and reliable customer support, making them top choices for South Africans.

What Do I Do If 1ForYou Voucher Is Invalid?

Check whether you've already used it or not, as that's usually the case when the code doesn't work. Otherwise, contact customer service via phone or email for assistance.

Can I Buy 1Voucher on Capitec App?

Unfortunately, no. Currently, it is not impossible to buy 1Voucher on the Capitec app, but using the app, you may purchase OTT Voucher or Blu Voucher.
References: