Blu Voucher Casino Sites: How to Use Blu Voucher in Online Casinos
A crucial aspect of any outstanding online real money gambling experience is the level of convenience it offers. Among the many factors influencing this convenience, a major one is the ease of making payments. Banking methods in the iGaming industry should be safe, reputable, and trusted. Equally important, they must be fast, hassle-free, and free of extra costs. One payment service that perfectly embodies these qualities is Blu Voucher, a single-use prepaid coupon that enables customers to conduct transactions on eligible Blu Voucher casino sites and effortlessly.
At a top Blu Voucher casino in South Africa, punters can easily pay into their gaming account using this option. Bank transfers, debit cards, and e-wallets remain popular among users, but an increasing number of South African betting websites and top 10 online casinos in South Africa are now encouraging customers to make deposits with Blu Voucher. This article contains summarised reviews on depositing funds at the best Blu Voucher casinos alongside a guide to buying and redeeming coupons.
| | |
| --- | --- |
| Banking method | Blu Voucher |
| Parent Brand | Blue Label Distribution |
| Year Established | 2004 |
| Minimum Deposit | R2 |
| Maximum Deposit | R1000 |
| Transaction Speed | Instant |
Introduction to Blu Vouchers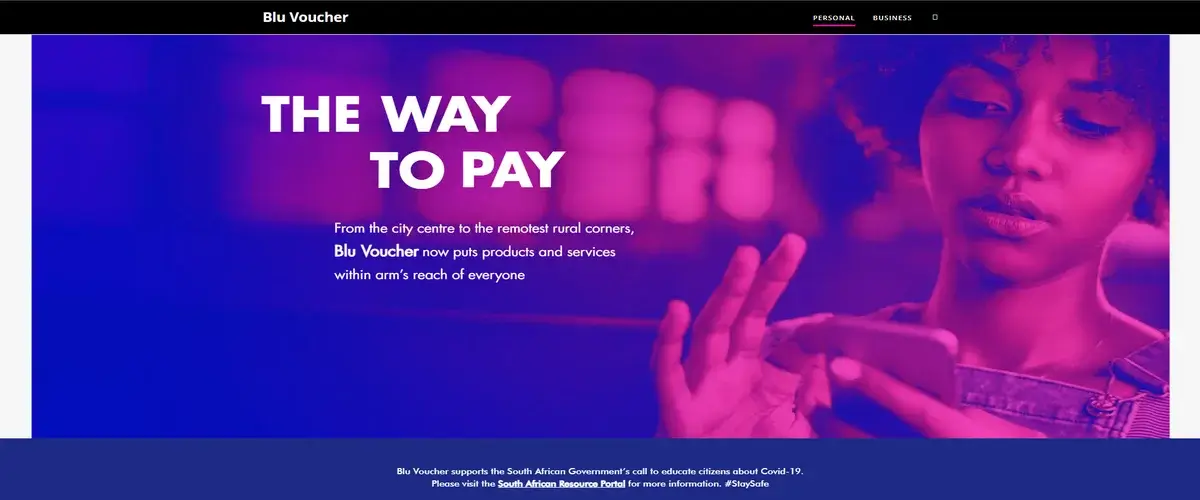 Blu Voucher stands out as a highly experienced player in the South African prepaid banking industry, having been around for nearly two decades. The brand is owned and operated by Blue Label Distribution, a Johannesburg-based company that boasts over 150,000 national distribution points. Blue Label features a diverse range of partners, from banks like Capitec and ABSA to retail shops like SPAR and PicknPay, and petroleum companies like Caltex and Sasol.
Notably, Blu Voucher is widely recognized for how seamlessly it caters to South Africa's unbanked population, estimated to be 40% of individuals aged 16 or older. These vouchers are readily available at numerous stores and boast a favorable validity period of 3 years from the date of purchase.
What Is Blu Voucher Used For?
To use Blu Voucher at online casinos, users must first purchase the coupon from a retail outlet that sells them. We'll provide a list of authorized merchants in the next section of this page. Each slip comes imprinted with a unique 16-digit PIN. Once acquired, enter the voucher's unique code on the deposit page of a relevant gambling site. The full value of the coupon will instantly be redeemed into your gaming balance.
Where Can I Buy Blu Voucher?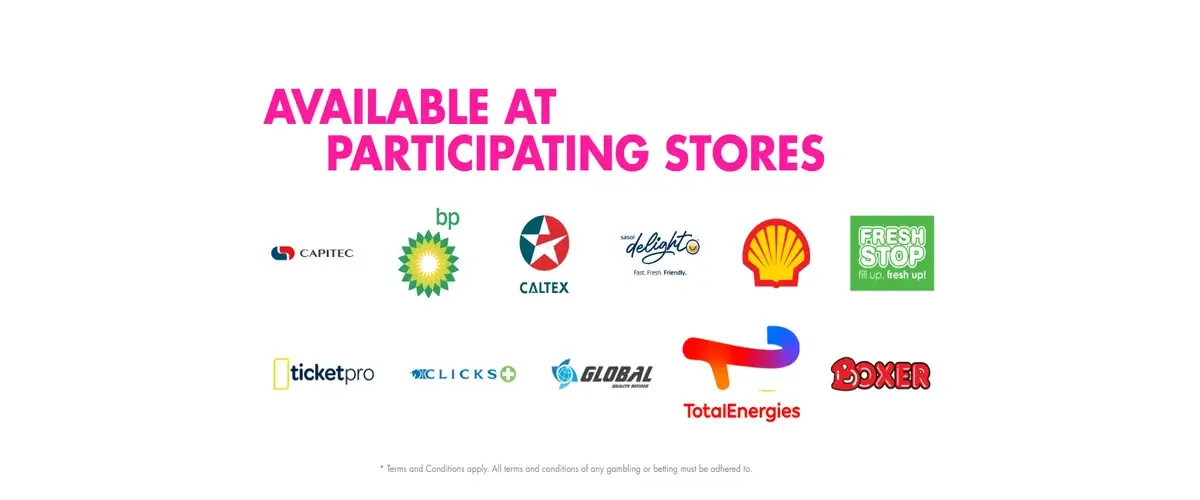 Blu Voucher is available for purchase at several authorized retailers around the nation. Whether in the heart of a bustling urban center or a remote rural area, you'll likely find a nearby vendor selling Blu vouchers. This vast coverage is particularly important, especially since the coupons cannot be purchased online.
Players can buy Blu Vouchers in denominations ranging between R2 and R1000 at every store that sells the vouchers.
Stores That Sell Blu Vouchers
You can get a Blu prepaid voucher at numerous approved retailers nationwide. Interestingly, according to some online reviews, these vouchers are sold at approximately 90% of stores where you can buy a prepaid Airtime voucher.
Let's take a look at the network of convenience stores, petroleum companies, and other nationwide retail chains where punters can buy a Blu prepaid token:
Boxer
bp South Africa
Caltex
Capitec
Clicks Fresh Stop
Global Oil
Sasol
Shell
Shoprite
SPAR
Spaza Shops
Ticket Pro
Total Energies
How to Buy Blu Voucher Online
Regretfully, there's currently no option to buy a prepaid Blu Voucher online in other ways than on Capitec App. We checked and double-checked but found no signs of a website sales portal or mobile app. So players must launch a Capitech app to buy a Blu Voucher online or physically visit a nearby Spaza shop or one of the stores listed above whenever they wish to purchase Blu vouchers offline.
How to Recharge Blu Voucher
One of the benefits of using this payment method is that it's so convenient to recharge your account at online betting sites with it. Here's a step-by-step guide that answers the question of 'How to redeem my Blu voucher?':
Head to a nearby Blu-approved merchant and ask for a voucher for your desired amount.
Sign up or log in to your South African betting or online casino account and open the payment page.
Pick Blu Voucher as your preferred deposit method.
Enter the PIN on your voucher in the text box provided, then click the 'Submit' button.
You've now successfully redeemed your coupon, which will be instantly credited to your Blu voucher casino balance.
What Are Blu Voucher Redemption Partners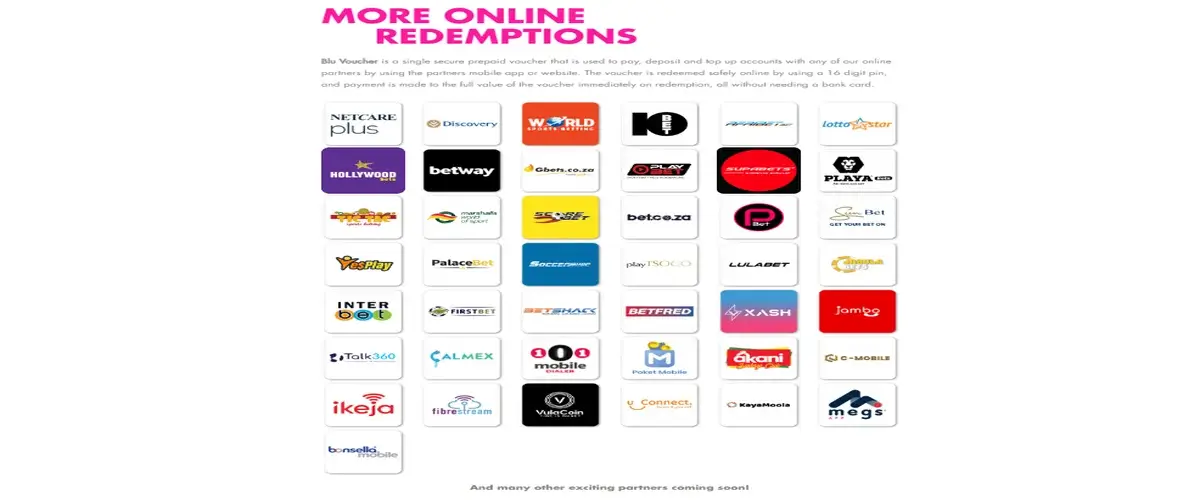 Any business that allows online payments with Blu Voucher is considered a redemption partner. These partners include betting and casino sites, entertainment, mobile services, and healthcare companies.
From Cape Town to Port Elizabeth, we've compiled a list of the major partners where you can use the Blu prepaid voucher as your payment option:
10Bet
Betfred
Betway
Supabets
Soccer Tab
Talk360
Calmex
101 Mobile
NXA Tel
RugbyFundi
DiskiMillions
ConnexMe
Before buying or giving out a free Blu Voucher, it's important to note that they are non-refundable, and there is no possibility of reprinting them. Also, similar to other prepaid vouchers meant for single use, Blu Vouchers are bearer documents, so any damage or misplacement will result in losing their value.
How to Use Blu Voucher at Online Casinos & Sports Betting Sites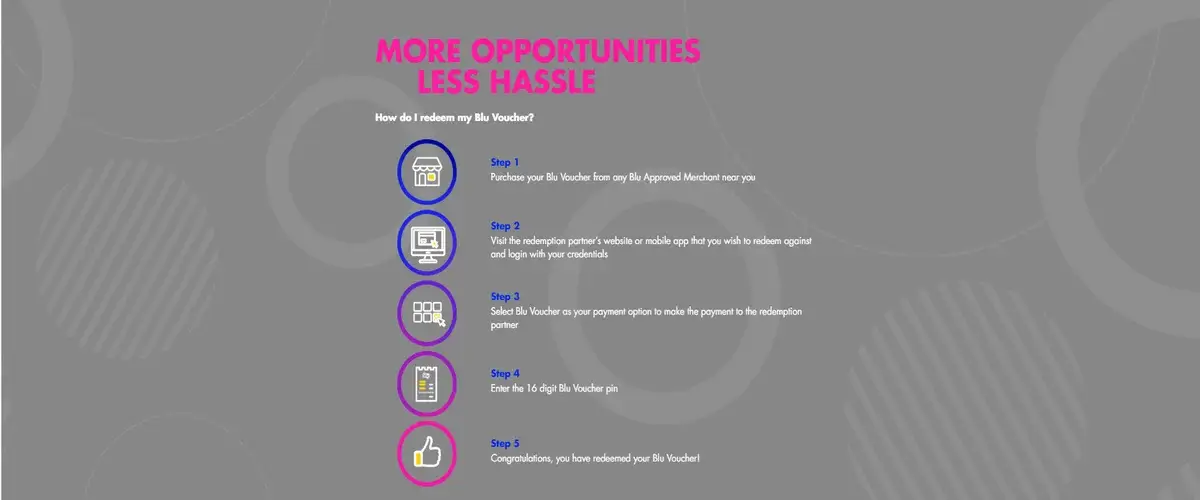 Blu Vouchers are ideal for casino gaming because they allow punters effortlessly and instantly top up their accounts. Keep reading to find out how to load them on the best sites in South Africa.
Using a Blu Voucher on 10bet
To deposit into your 10bet gaming balance through Blu Voucher, follow these steps:
Access the 10bet platform for web or mobile, then log in to your online betting account.
Open the 'My Account' section and click the 'Deposit' button.
Select Blu Voucher from the deposit options, then enter the exact amount you're paying.
Hit the 'Deposit' button and provide the PIN on your Blu Voucher.
Enter your number in the field provided, then Approve the transaction.
Using Blu Voucher on Fafabet
The process involved in making Blu Voucher deposits on FafaBet is outlined as follows:
Sign in to your Fafabet casino account.
Head to the Banking section and Deposit tab.
Select Blu Voucher as your preferred payment method.
Type in the deposit amount and then the Blu Voucher 16-digit PIN.
Complete the transaction, and you're all set to start playing sports and casino games.
Using Blu Voucher on Betfred
Betfred supports Blu voucher withdrawal and deposits for South Africans.
Here's the process involved in using this payment option:
Open the Betfred website or mobile app and log in.
Access the 'Payments' tab and select Blu from the list of deposit methods.
Enter your Voucher amount and follow that up with the PIN.
Click on the 'Submit' button to finalize the transaction so you can begin placing bets.
Using Blu Voucher on Betway
Follow these steps to deposit at this Blu Voucher-powered online casino in South Africa:
Log in to your Betway account with your credentials.
Head to the Deposit section and choose Blu among the displayed options.
Choose a deposit amount and enter your 16-digit code.
Click the 'Redeem' button to approve the payment.
Using Blu Voucher on Bet.co.za
Bet.co.za allows customers to make Blu Voucher payments on its casino and online betting sites.
Visit the Bet.co.za website and open the Banking section.
Under Deposits, choose Blu Voucher as your deposit option.
Type in the voucher amount and its PIN.
Confirm the deposit and wait for it to reflect in your account. This should take only a few seconds.
Blu Voucher Casino Payments vs Other Banking Methods
| Payment Method | Transaction Fees | Transaction Speed | Safety | Customer Support | User Experience |
| --- | --- | --- | --- | --- | --- |
| Blu Voucher | 0% | Instant | Excellent | Phone desk Email | Excellent |
| Ozow | 0% | Instant | Good | Call Center and live chat | Good |
| 1ForYou Voucher | 0% | Instant | Excellent | Toll-free Call Center Email | Excellent |
| EasyEFT | 1% | 2-5 business days | Good | 24/7 live chat support | Good |
| SID Instant EFT | 3-5% | Up to 2 business days | Good | Email and 24/7 live chat | Good |
| Mastercard | 2.5% | Up to 5 business days | Excellent | 24/7 live chat | Good |
| Visa | 2.65% | 2-5 business days | Excellent | 24/7 live chat | Good |
| Astropay | 0% | 1-3 business days | Good | Phone desk Email | Good |
| Bitcoin | 0% | Instant | Excellent | N/A | Good |
Blu Voucher Advantages and Disadvantages
By offering cardless transactions that eliminate the need for bank transfers, Blu Voucher stands out as one of the most convenient payment methods in the South African betting scene.
Advantages

Availability
Instant deposits
Safety and security
Simple & convenient
Good range of casino partners
Budget control
Disadvantages

Not available online
Cannot be retrieved
Advantages
Availability – The network of South African stores selling Blu Vouchers is so extensive that players will always have one within easy reach.
Instant deposits – Top Blu Voucher casinos in RSA provide instant deposits so players can get to their gaming without delay.
Safety and security – Blu Voucher is as safe as a cash payment. They represent a secure way to make online purchases by ensuring that your personal banking information does not go on the Internet.
Simple & convenient – Blu Voucher payments for online casinos are quick and straightforward. All it takes is entering a 16-digit PIN number on a partner website.
Good range of casino partners – Punters have access to a respectable range of South African Blu Voucher casinos and betting sites, including all the leading operators.
Budget control – Unlike e-wallets and credit cards that are connected to larger sums, Blu prepaid vouchers are single-use and can be useful in helping players stick to their gaming budgets.
Disadvantages
Not available online – Blu Voucher remains one of the most convenient casino banking options, but it would be so much better once players can buy it online somewhere except the Capitec app.
Cannot be retrieved – Prepaid vouchers tend to be bearer documents, so users must be careful not to misplace them, as that would mean forfeiting their value.
Is a Blu Voucher Money Deposit Safe?
A key selling point of Blu Voucher South Africa transactions is that they help users avoid sharing their personal banking information or card details online. This ensures water-tight security and keeps their account statements free of gambling-related charges.
Furthermore, the list of online partners using Blu Vouchers and the reputable companies selling them underscores the brand's top-tier trustworthiness and reliability.
CasinoHEX Verdict on Blu Voucher
Blu Voucher is an outstanding casino payment method for several reasons. It offers wide availability, widespread acceptance, fast and secure transactions, and unmatched convenience – all without any transaction fees.
Amidst these perks, a notable limitation is the absence of an online or mobile app option to buy Blu Vouchers. Nevertheless, this drawback may not significantly impact a substantial portion of users. The reason is that buying vouchers online with mobile devices typically requires using a bank card or transfer. These services are beyond the reach of the unbanked population that makes up a significant percentage of Blu Voucher customers.
Blu Voucher Casinos FAQs
What Is a Blu Voucher and How Do I Load It?

A Blu Voucher is a prepaid banking service that allows you to make cardless payments at online gaming sites. They are sold at thousands of participating merchants across South Africa in various denominations between 2 to 1,000 rands. Once you buy a coupon, redeem it in your gaming account by entering the PIN on the casino's deposit page.

For How Long Is My Blu Voucher Valid?

A Blu Voucher and its corresponding 16-digit PIN will remain valid for three years (36 months) after purchase. This means you can plan ahead for your online spending and then stock up on Blu vouchers whenever convenient. It's all good, as long as you remember to use them up before you run out of time.

What Happens If My Blu Prepaid Voucher Gets Lost or Stolen?

Blu Vouchers are classified as bearer instruments, meaning the value of the voucher is directly tied to the physical document. As a result, losing them would result in a complete loss of their value, with no options for refunds or reprints. Safeguard your Blu Voucher as carefully as you would protect your cash.

Can I Use a Blu Voucher to Fund My Online Casino Account?

You certainly can. We detailed the full process earlier on this page, but here's a summary. After obtaining your Blu Voucher from an approved store, you'd need to enter its 16-digit PIN in the online casino's deposit tab. Once that's done, your betting site balance will be topped up with the voucher value.

What Are the Blu Voucher Casinos That We Recommend to Players?

Our iGaming experts have decades of experience playing and assessing online casinos and betting sites. They leverage this extensive knowledge to evaluate the games' quality, performance, support, and bonus offers at the top online casinos accepting Blu vouchers. The standout recommended platforms during the review process were 10Bet, FafaBet, BetFred, Betway, and Bet.co.za.

Can I Buy Blu Voucher Online?

Yes, fortunately, it's possible to buy these vouchers online using the Capitec app. Here's a short guide on how to do this:

Open the Capitec app and sign in.
Go to 'Transact' – Buy vouchers
Choose a Blu Voucher
Add an amount to buy
Confirm the payment and get your voucher code.
References: