An escape to a highly acclaimed casino destination is every gambler's dream. In South Africa, there are plenty of such places to visit. Gold Reef City casino is a perfect example of a land-based casino that has everything in one place. The gambling destination got its name from gold rush exploits that took place in 1886 to become a themed resort where every novice and expert gambler goes to unwind, play casino games and even win.
Gold Reef City casino was built in the 70s, soon after Jozi Gold Mines were closed in 1971. Tsogo Sun is the owner of the entertainment establishment that straddles a 45-acre land. Tsogo Sun is South-African-based gaming, entertainment, and gaming group with several investments in the country and beyond. At the Gold Reef City casino, there are 1,500 slot machines, 1,000 of which are on the main floor. The state-of-the-art gaming complex also houses up to 47 table games such as Raise'Em Poker, several blackjacks, and roulette variants, baccarat, and many others. Luxurious hotels, a theme park, and restaurants are also available at the casino complex, making it one of the best land-based casinos in South Africa. Find out more in this Gold Reef City casino review.
Gold Reef City Casino Contact Details
If you've never visited Gold Reef City casino, worry not. The table below should simplify your search for its location, including contact details.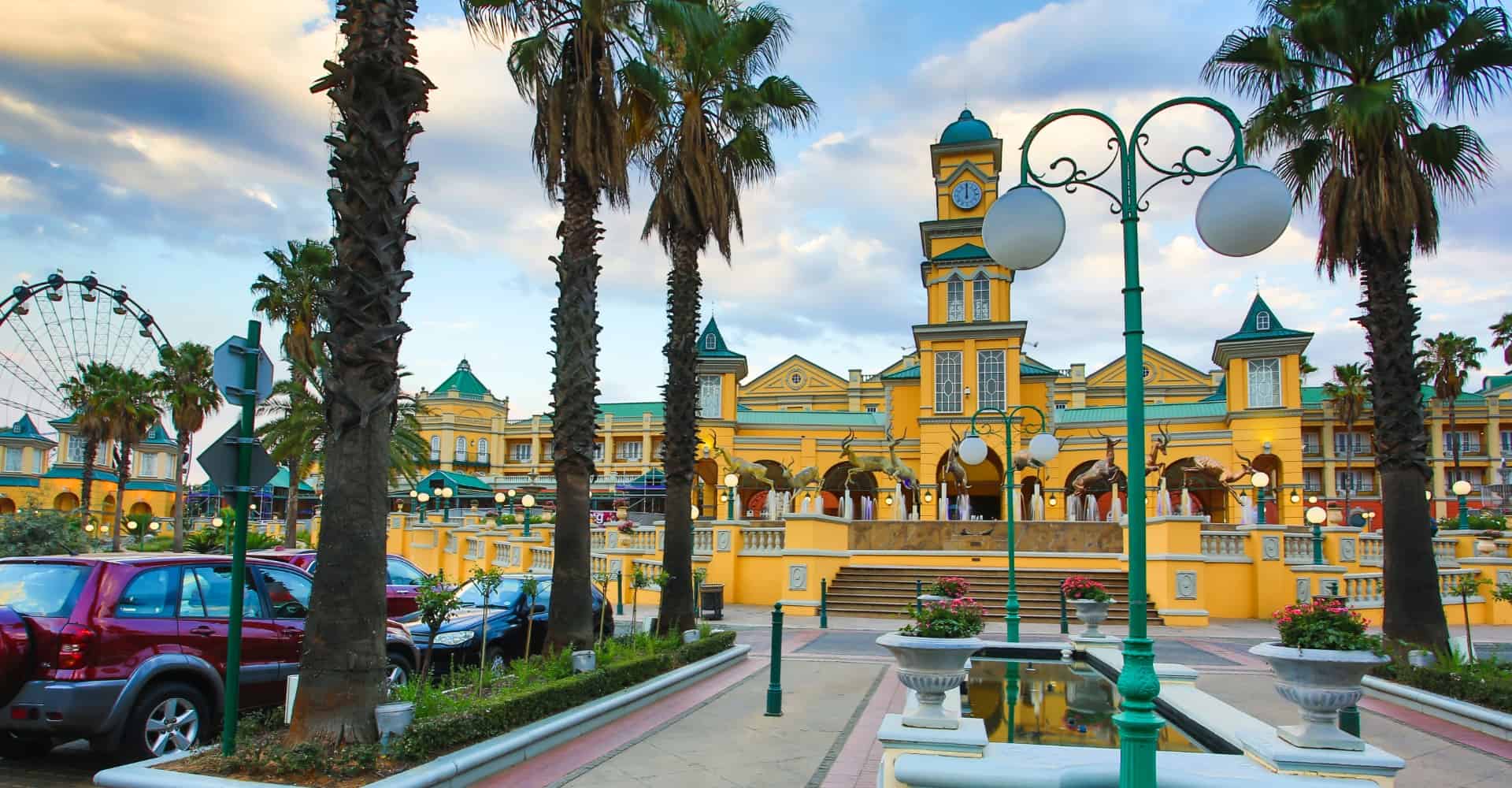 Source: goldreefcity.co.za
| | |
| --- | --- |
| 🌍 Province | Gauteng |
| 📍 Address | Private Bag 1998, Gold Reef City, 2159-Johannesburg |
| 📞 Contacts | Phone: +27 11 248 5000 Email: [email protected] |
| ⏰ Open Hours | From 8.00 a.m. to 9.00 p.m. daily |
| 💻 Website | http://www.goldreefcity.co.za/ |
| 🎲 Table games | 47 |
| 🎰 Slots | 1500 |
Gold Reef City Casino Games Selection
Spending time at the Gold Reef City casino is never devoid of fun. If you want to gamble at the best casinos in Johannesburg, South Africa, Gold Reef City casino games offer the much-needed diversion from the busy city life. There are plenty of casino games to fulfill your quest for an enriching gambling experience here.
Fans of slots can choose from at least 1,500 options available. The good news is that with as little as 1c or up to R100, you can place a bet on the Gold Reef City casino slot machines game. It means everyone, including the low-roller, has a chance of playing slots at the Gold Reef City and so is winning. The Barney's Smoking Casino section houses 564 slots, 814 on the non-smoking main floor, and a further 131 machines are found in the upmarket Privé area at the Gold Reef City casino. There is an exclusive private gaming area that houses 11 slot machines.
For table game enthusiasts, Gold Reef City casino houses an exciting gaming area to meet your taste. There are 34 tables in the non-smoking section. Of these, 24 roulette tables are regarded as the most exciting, and one can wager as low as R10. You can also enjoy playing cards, poker, and a variety of progressive jackpots in the casino. The James Bond game, Baccarat, is another popular casino game you can play at the Gold Reef City casino.
Why Play Casino Games at Gold Reef City?
Like any other land-based casino you've visited in South Africa's city of Johannesburg, Gold Reef City gives you every reason to keep going back for more. Here are some reasons why it is the perfect gaming destination for you:
Exclusive reward program for members: Gold Reef City casino runs a loyalty program for members. Cardholders get discounts and unfettered access to other areas such as theme parks, movie theatres, and more.
A wide array of games: Another reason to visit Gold Reef City casino is to enjoy playing an unlimited number of games. While 47 table games may limit you to a few options, choosing from up to 1,700 slot machines gives you all the reasons to play for a win.
Exciting jackpot games: At Gold Reef City casino, gamblers also enjoy taking their chances at several non-progressive and progressive jackpots. The jackpot games pay out handsome rewards.
Low-stakes, more winnings: A low stake of at least 1c on slots or R10 table games is everything you need to take risks on any slot machine or table game as you play your way through to bigger rewards at the Gold Reef City casino.
Entertaining galore: The party at Gold Reef City casino never stops with playing games. You can always take a stride in the theme park to unwind or dine and wine in exclusive restaurants in the establishment. Bars and hotels add to a rich list of things to do at the Gold Reef City casino.
Dining and Bars on the Resort
If you love to dine and wine in the finest places, Gold Reef City casino restaurants offer the perfect getaway. Several restaurants in the establishment serve different cuisines. Experience the glamour of South Africa's Jazz music alongside friends and family members in budget-friendly restaurants and bars such as AldaE Café, Barcelos, Barney's Restaurant and Bar, Calisto's, Corner House Curries, Debonair, and others.
Accommodation
The Gold Reef City resort also hosts exclusive hotels such as Theme Park Hotel and Southern Sun Gold Reef City Hotel for travelers and family suits. To book any Gold Reef City casino hotel, visit the official website and select a suitable accommodation package.
Entertainment
Entertainment at the Gold Reef City casino hotel epitomizes everything you will experience here. Watch, dance, and listen to live performances of Jazz. Also, spend time in the Victorian train station-themed movie complex for unforgettable moments with friends and family. You will also be awe-stricken by a walk in the Gold Reef City theme park. The Lyric Theatre at the establishment is a massive 1100-seat arena for endless entertainment.
Promotions and Reward
Rewards and promotions are integral parts of every casino. A membership card is all you need to keep the fun going. Every time you play games at the casino resort, you earn redeemable loyalty points, which you can use in the restaurants, accommodation, cinema halls, and get discounts at the shops within the establishment. Save at least 10% in restaurants, 10% in entertainment, and at least 30% in movies at the Gold Reef City casino with the cardholder loyalty program.
Directions
Gold Reef City casino is only 8 kilometers away from Johannesburg city, Gauteng province in South Africa. The casino complex is situated in Data Crescent, Ormonde, along Northern Parkway Road. It operates between 8. a.m to 9. p.m.
Overall Experience of Gold Reef City Casino
Gold Reef City casino ranks highly among the most-visited casinos in South Africa's province of Gauteng. The casino complex sits on a 45-acre land, and it is a massive establishment where everyone gets to fulfill their wildest gambling dreams. The Lyric Theatre, with a seating capacity of 1,100, epitomizes enjoyment at the gambling destination.
Gold Reef City Casino COVID Restrictions
Visitors at the Gold Reef City casino should observe COVID-19 guidelines while at the casino complex. Always wear a face mask in the casino. Also, adhere to hygiene standards set at the entrance so that everyone can have fun safely in the casino complex.