Best Halloween-Themed Slots to Play in 2023
October is here, and the spooky season has officially begun. With this in mind, Halloween casino slots are coming back from the grave and will give people a chance to try out some spooky games. But it's hard to choose just one game from the huge variety of slots there are!
During this time of the year in South Africa, people start to prepare for Halloween. But preparation is not only present around the streets and cities; it's also present in the online gambling world, and people can play slots for real money that are Halloween-themed!
So for punters who want to have fun trying some Halloween slot games, getting to know all about the best spooky-themed slots, how these work, what they offer, how people can win on these, how to try them for them free, and there's a lot more to know!
5 the Best Halloween Slots to Play in 2023
By getting to know the 5 best Halloween slot machines, South African players will have a great time enjoying a popular festivity in the way they like most! Even if people want to try free online slots on Halloween, getting an idea of which games are the best to try is a great way to start.
As for us, we have chosen five games to talk about and see what each one of them offers.
| Slot Name | Game Developer | Best Feature | RTP |
| --- | --- | --- | --- |
| 🎃 Hot Hot Halloween | Habanero | "Hot Hot": Allows all single symbols to transform into doubles except the 7, which is now taken as three symbols. | 96.66% |
| 🧙🏻‍♀️ Halloween Fortune | Playtech | In-game multipliers from different symbols | 97.06% |
| 🧛 Count Cashtacular | Realtime Gaming | Pick Bonus: Triggered once the Nudging Wild Symbols show, at the same time, on reels 1 and 5, allowing players to get 12 free games or re-spins. | 96% |
| 🏚️ House of Fun | BetSoft | In-game scatter symbols with unique rewards | 94.96% |
| 🤡 Jugglenaut | Habanero | In-game bonuses, thanks to the wild symbols. | 95.98% |
🎃 Hot Hot Halloween – A Hot Hot Slot During the Spooky Season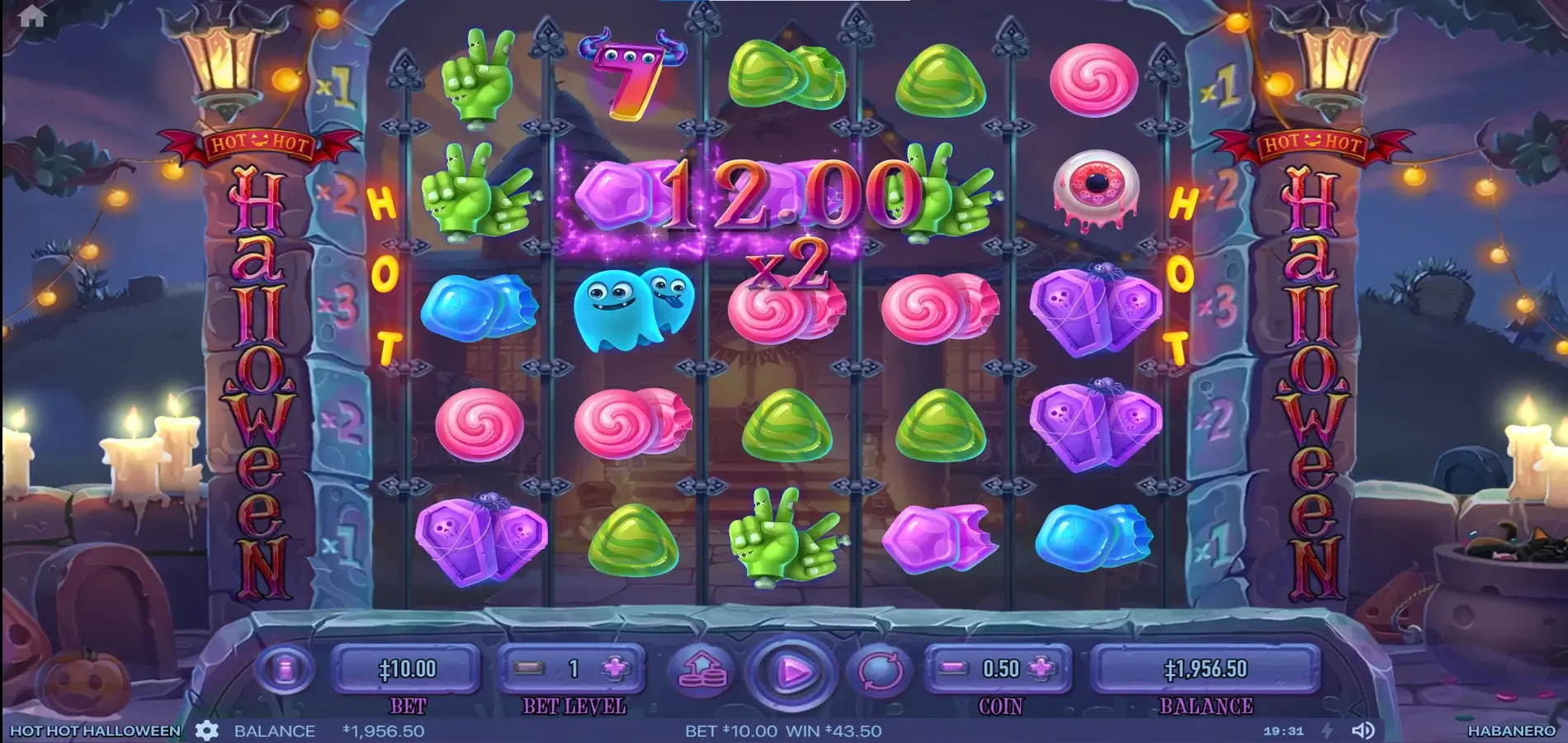 Created back in 2019, the Hot Hot Halloween slot game rapidly became one of the favorite games from Habanero. One of the first things to mention about this game is how innovative it is, and that's not a surprise coming from Habanero.
The game design is quite traditional. It shows people a unique horizontal slot machine with different types of symbols. In this case, all the symbols available are related to this holiday, but they look a bit less scary due to how these are designed.
In this game, the idea is to hit at least 3 symbols on reels next to each other to win the game. But that's not everything, as the game offers people the chance to hit unique combos to get 2x or 3x multipliers to hit bigger wins.
As for the RTP, Habanero offers 96.66%, which is beyond the average for some games, and that makes it a lot better for people to enjoy Halloween slots online.
There are also bonus features included on the list, and that's what makes the game unique. With the "Hot Hot" feature, players get the chance to change the game and hit bigger wins, but there are also other in-game bonuses, such as free games offered after landing the Pumpkin Symbols.
So, if you want to try Hot Hot Halloween, your best call is to visit Galatic Wins and play today!
Play Hot Hot Halloween in Galactic Wins Casino
Attention!
RTP might change from one casino to another. Even though this game has a base RTP, some casinos might differ on the percentage.
🧙🏻‍♀️ Halloween Fortune – A Classic Halloween Slot Machine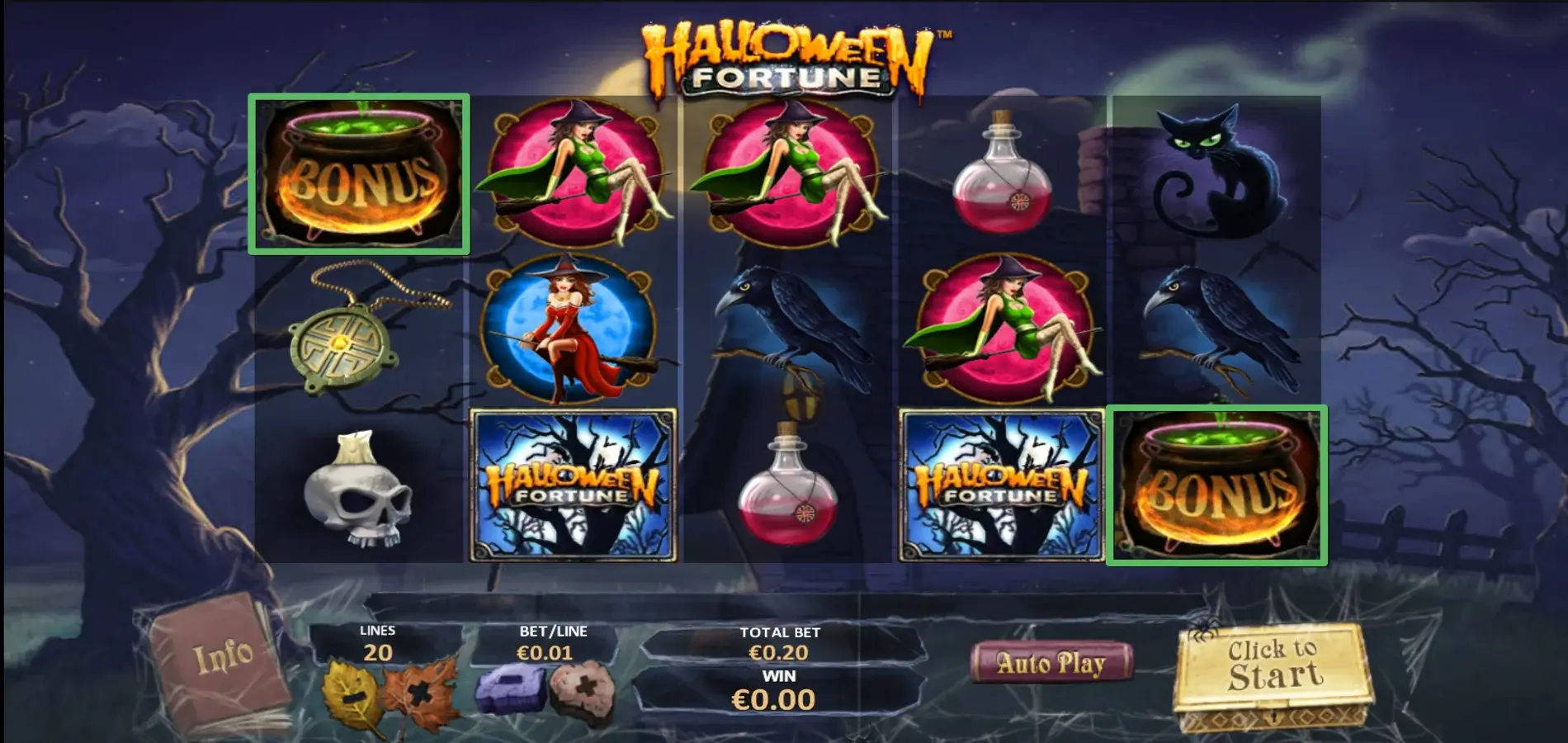 Created by Playtech back in 2012, Halloween Fortune rapidly became a famous game in the spooky games niche. It's fair to say that this game takes an important part of what people consider scary, such as witchcraft and witches, to make a unique slot for this season.
With a 5 reels and 20 paylines structure, Halloween Fortune provides one of the easiest slots to enjoy in 2023. The graphics, even though they are more than 10 years old, still keep up to this date and offer people the chance to see all types of witchcraft-related symbols.
It's fair to say that Halloween Fortune has one of the best RTPs in the Halloween themed slots niche, with a 97.06%. As a matter of fact, this game has the highest RTP on this list, and that will ensure players have a good chance of hitting some wins!
Even though this slot lacks special features, there are some in-game bonuses that people can activate thanks to the Carved Pumpkin, which is the Wild Symbol and will make winning easier, and there are other bonuses like the Witches' Brew, which can give some free spins, multipliers, etc.! And, people can forget about the gamble feature, which allows SA punters to try to double their winnings with a simple click.
Overall, among the different Halloween casino slots, this one remains the favorite for many players, and BigWins is the perfect casino to give it a try!
Play Halloween Fortune in BigWins Casino
Fun Fact
Playtech tried to reply to the success of this slot with a second game, but it didn't have as much success as expected.
🧛 Count Cashtacular – Play with a Fun-Themed Version of Dracula!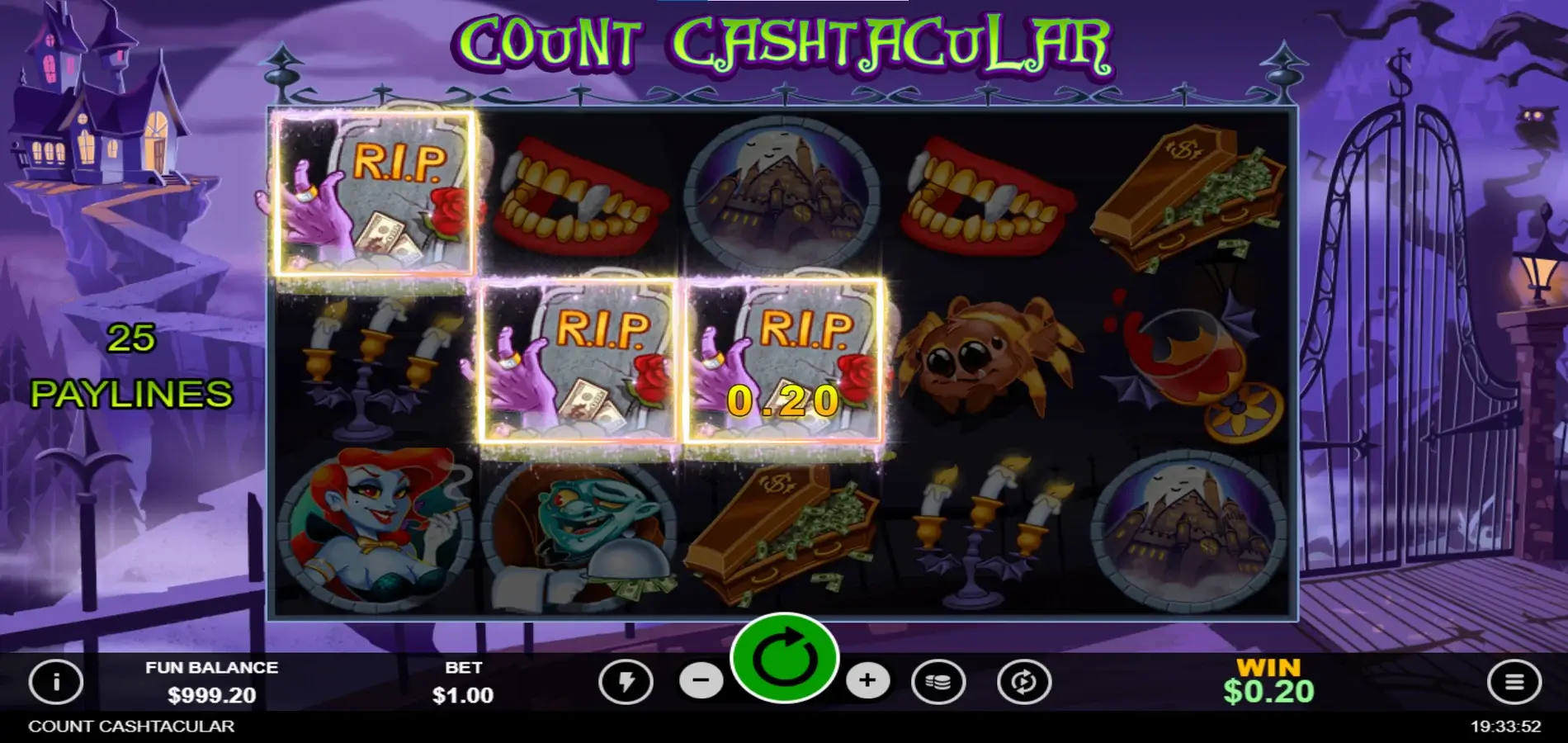 If you are interested in vampires, this game will give you lots of fun. The Count Cashtacular slot was created in 2022, and since then, it has become a go-to game for Real Time Gaming lovers.
Count Cashtacular is a game that, even though it lacks a jackpot feature, offers people the chance to win 50,000 times what they bet. This is possible thanks to the 25 paylines available to use in the game. And with some good chances of winnings, players will surely head on an adventure to know the secrets of the Count.
Even though it's a Halloween slot game, graphics and sound will make it a fun experience for all players. With the Count being the main character, there will be other symbols with characters such as spiders, zombies, and much more waiting for players to see them.
With a 96% RTP, the game gives a good Return to Players percentage, which is great to know. Also, there are some bonus features thanks to Nudging Wild Symbols in the game, which will trigger free games that include unique prizes.
Count Cashtacular is a great game for the free Halloween slots with bonus punters, and Yabby is a great casino to try this slot!
Play Halloween Fortune in Yabby Casino
Did you know?
This is the first RTG game where wild symbols substitute scatters as well as other symbols while playing.
🏚️ House of Fun – Visit the Haunted Gambling House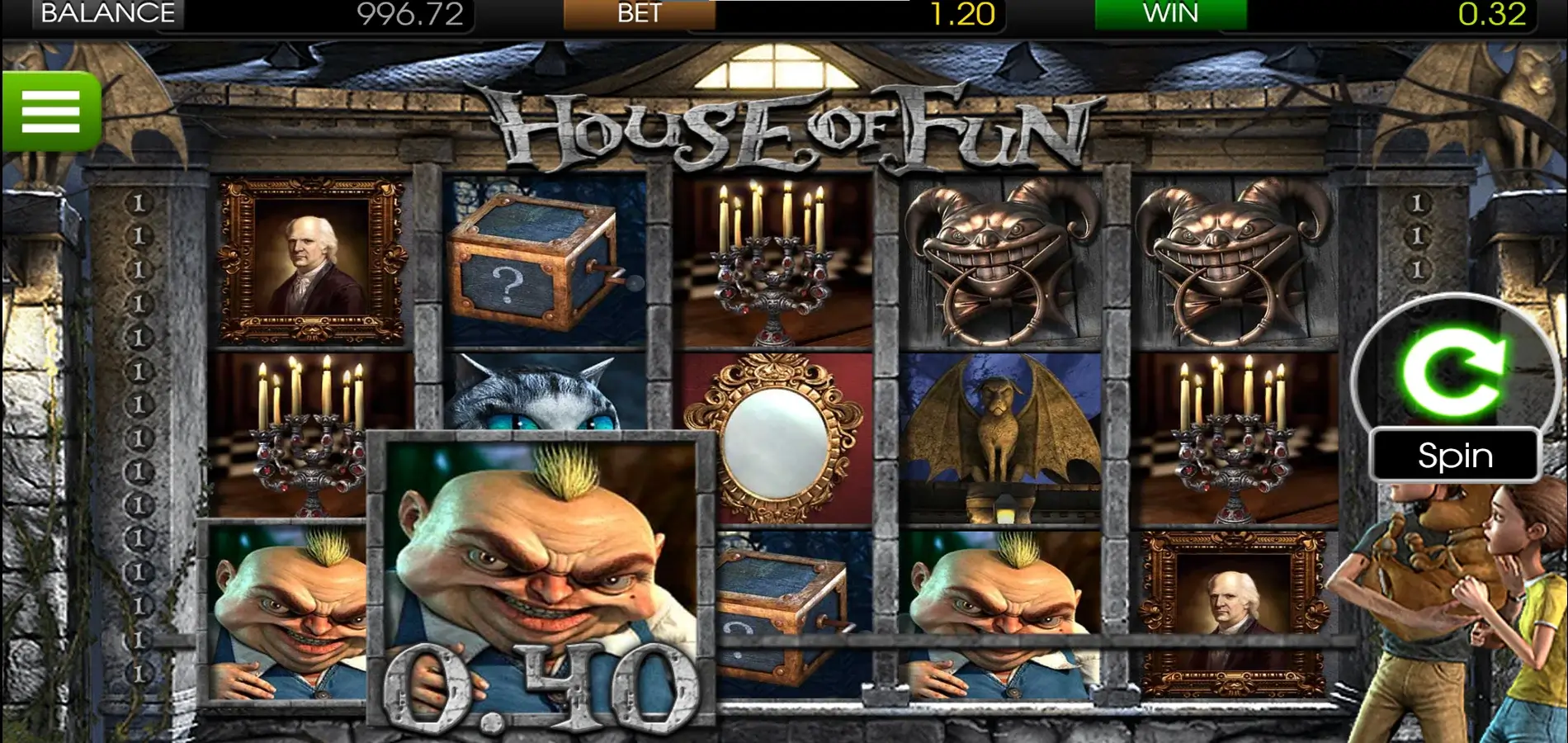 Created by BetSoft back in 2011, House of Fun rapidly became a great game for the Halloween season. This game takes people to the adventure where they need to follow two kids in a haunted house, but there will be lots of spooky surprises waiting for them!
With a structure of 5 reels and 3 rows, House of Fun follows the traditional slot structure. Also, it includes a Halloween slot demo for those who want to get an idea of how the game works.
One great thing about this game is the bonus features that will make the 94.96% RTP worth it. With the Jack Free Spins, the Mad Click Me, and the Door Knockers, players will have a unique chance to have lots of fun!
As for how the game looks, the symbols are quite scary. Truth be told, these symbols are among the best designs within the Halloween slots we have talked about. All of this, combined with a dark atmosphere, will give players the chance to feel like they are truly part of the slot!
For those who want to give House of Fun a try, the best online casino to make this possible is Mr Fortune!
Play House of Fun in Mr Fortune Casino
Tip!
Try out the demo version to meet all the available symbols, as there are many in the game.
🤡 Jugglenaut – A Different Way to Look at Clowns at Online Casinos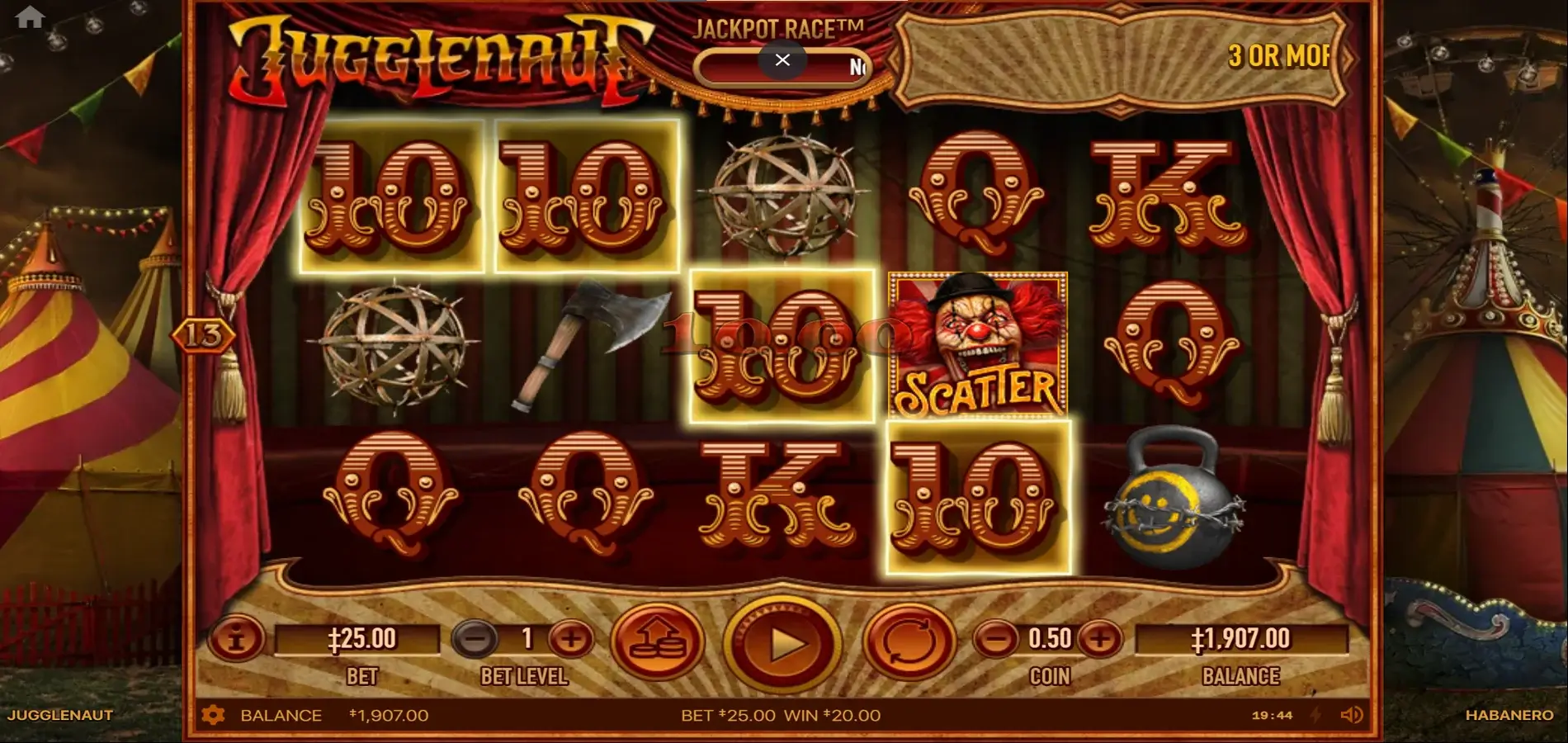 At first sight, the slot created in 2016 by Habanero might not seem so spooky compared to other games, but what makes this game unique is the sinister look of how this circus-themed slot turns into a Halloween slot machine in no time.
With a 5-reel and 3-row structure, players will come across 50 fixed paylines. Players will get the chance to match symbols from side to side, which will make all paylines usable, especially with wild symbols.
As for extra features, there are different options in this slot. One of these bonus features comes with the Wrestler, which is actually the wild symbol and will help players get a huge win as it can substitute any other symbol in the slot, allowing unique combinations! Also, the Terrifying Clown works as the scatter symbol, which will increase the multiplier on your bet, and if you get three or more, prepare for the bonus rounds!
Lastly, the RTP of Jugglenaut comes with a great percentage, just like other Halloween slot games, with 95.98%. So, if you want to give this game a try, head over to bCasino and try it out!
Play Jugglenaut in bCasino
Did you know?
Jugglenaut is the only game with low volatility on this list.
Boo Casino – Best Online Casino with Scary Halloween Theme
Boo Casino is the best Halloween-themed online casino available to play in South Africa. At first sight, it's easy to tell what makes it different, and it's that there are ghosts and other "spooky" images around the website.
Overall, there are many different features included in the casino, such as:
Different promotions are available for all players, varying from free spins, match bonuses, welcome packages, weekly bonuses, and much more.
There are different payment methods available for use, such as eWallets, credit cards, debit cards, and some others.
The website is easy to use thanks to the design it has, as everything can be found in no time.
The Boo Casino login is not complicated after completing the registration process.
Boo Casino offers a huge gaming catalog with different Halloween slots free play versions to try out.
Boo Casino is compatible with mobiles and other devices, such as tablets. It also has its own app to download.
Why Play Halloween Slot Machine Games?
Up to this point, players have an idea of what are the best Halloween-themed slots they can play during this spooky season. Having an idea of how these work, what they offer, and how different they are from other games is just great!
So, if you are ready to try out some spooky slots, you know where to find them to have some fun during this Halloween!