Wina Manje Scratch Cards: Top Online Scratch Cards To Play Today
Wina Manje scratch cards offer enjoyable casino playing without requiring too much thought or an outlandish approach. These scratch cards are fun for all levels of gamblers, from novices to experts. The cards are also convenient since individuals can access them through a desktop, smartphone, or tablet as well.
Unfortunately, not all online casinos can provide scratch card games. In other platforms, finding Wina Manje scratch card games may be hard because online scratch cards are not the main form of the game there. Luckily, our researchers and other skilled personnel have worked diligently to identify the top online scratch cards, such as scratch cards South Africa, to play today. Additionally, they have ensured that each Wina Manje scratch card game they chose is secure, user-friendly, and safe.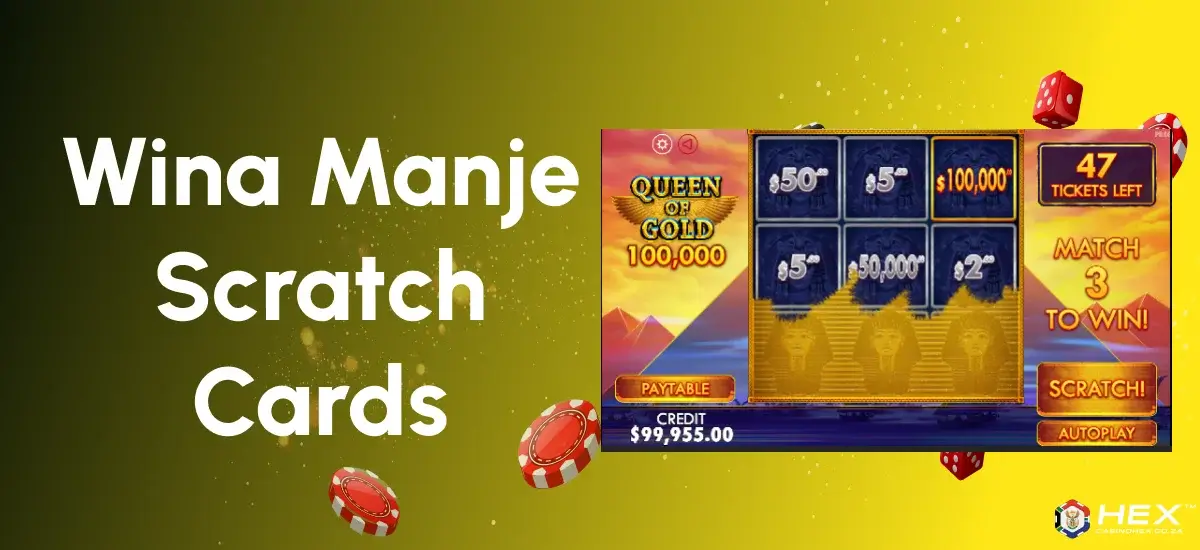 Wina Manje And Its Brief History
Wina Manje is a scratch card game that consists of various scratch cards. The cards contain symbols that allow individuals to identify matching symbols. If one finds the matching symbols, they are awarded a cash prize. In 2015, Wina Manje was replaced by a company known as EAZiWiNN but got back recently and restored its games.
How to Play Wina Manje: Game Instructions
To play Wina Manje scratch cards game options, you will need to purchase its scratch card and then try to locate any matching symbols on it. If you do, you've won a cash prize. Remember, the Prize is only eligible if you get three matching symbols right. You will have approximately one year to claim your award if you win.
What Is The Price Of Wina Manje?
Typically, the tickets will range in price, depending on the specific games. For instance, games like Piggy Bank and Fast Cash may cost about R2, while other games like Money Talks and Pharaohs Gold will cost R10, making them more expensive. So, when is Wina Manje scheduled to occur?
Once a platform sells all its tickets for a certain game, the games in Wina Manje close as well. The tickets range from 1 to 5 million printed for each game. Players can also submit their cards to the Manje program for a chance to win additional rewards or make an appearance on the show.
The Rise Of The Wina Manje Game Show
The Wina Manje has a game show, which is its main appeal. The broadcast is on SABC TV stations, and Wina Manje online fans appear to like it. The program was switched to a new channel (SABC 1) after airing on eTV in 2009 for the first time.
Gidani, the organization behind Wina Manje, assures its fans of the show's return. Wina Manje scratch cards are one of the four products offered by the National Lottery, and they provide rewards that range from R2 to R500,000. Therefore, watch your local media to see when the next Manje game show will air.
Are All Wina Manje Scratch Cards the Same?
Typically, numerous Wina Manje scratch cards come in different sizes and forms. It is your preference to pick the one that is appealing to you. Additionally, check for other projects, such as the jackpot, to see the chances of winning prizes. Once you start betting, you will be required to use the virtual coin to scratch the cards, and it often needs to hit winning symbols.
Top Online Casinos With Scratch Cards
Online casinos are the ideal platforms since they provide the experience of physical casinos without having to leave your house. Even though most online casino websites give customers the option to access online scratch cards, some may be fake and not offer online casino real money. Below is a table outlining the top online casinos that have scratch card games:
| Casino Brand | No. of Scratch Cards Available | The Top Scratch Card Game | Play Now |
| --- | --- | --- | --- |
| PlayOJO | 126 | 7 Piggies | |
| Boo | 77 | Queen of Gold 100,000 | |
| bCasino | 77 | Diamond Strike 100,000 | |
| Galactic Wins | 77 | Scratch Match | |
| Casino Days | 54 | Scratch a Million | |
| Playamo | 42 | Football Scratch | |
| Tusk | 20 | Trevo da Sorte | |
| Casino.com | 18 | Fire Blaze Scratch | |
How to Play Online Scratch Cards In South Africa
The South African gambling industry has provided a fast and efficient way for individuals to play scratch cards easily. This has led to an increase in people who wish to know how to play these games. As mentioned earlier, online scratch cards come in different forms and sizes. Therefore, you can use the following steps to play online scratch cards in South Africa:
Choose the game theme that suits you.
Deposit the amount you have into the game's account and start to bet.
Choose one game among the various scratch games provided. You must scratch the cards in the panel using the virtual coin in the game.
The objective of the game is to hit winning symbols or numbers, depending on the game chosen.
If you strike a combination that results in winning, the game provider will add the amount instantly into your bank account or claim your Prize.
If you don't win, you always have the opportunity to try again later.
Types Of South African Scratch Cards
The two most popular categories of scratch cards are typically used in South Africa. These are progressive and lottery scratch cards. Suppose you are wondering where to buy lotto scratch cards South Africa and progressive scratch cards. In that case, they are available from a variety of online casino platforms and have a variety of themes.
Lottery Scratch Cards
Lotto scratch cards South Africa represent the most often played kind of scratch game. Like progressive scratch, lotto scratch card South Africa also provides a jackpot worth millions and larger prizes like bonus credits and free spins.
Progressive Scratch Cards
The main objective of the progressive scratch cards is to help you reach the jackpot. To win in this version, you must line up a precise combination of the digits in the scratch panel. If you do so, you advance to the following round and have a chance to win a large progressive jackpot.
The Most Popular Scratch Cards Among SA Punters
For South African punters, winning and having the best odds matter most. The punters constantly research popular scratch games to give good returns to achieve their goals. Here are 5 of the popular scratch cards for punters in South Africa:
Queen of Gold: Queen of Gold is one of the top scratch card games in South Africa. When Pragmatic Play created the game, they ensured that users could win prizes conveniently by using a virtual coin to scratch the cards.
7 Piggies: 7 Piggies is a unique scratch card game developed by Pragmatic Play. This developer ensures South African players can get the game at most online casinos. Regarding the return to player (RTP), the game provides a high RTP of 84% to 95%.
Diamond Strike: Diamond Strike is a fun game produced by Pragmatic Play and published in 2020. This incredible online scratch card offers fun game elements and a stunning RTP. It is efficient for low-cost players since they can use an amount as little as R1.
Hot Safari: Hot Safari is a simple scratch card game released in 2020. It is similar to the physical one that everyone is familiar with. To win, you must scratch three images that include matching symbols.
Panda Gold: Panda Gold is a free online scratch card that has a panda theme. This game was developed and released in 2020 to offer South Africans fun and unique. Its simple user interface allows individuals to play with computers and mobile phones.
What Are The Largest Scratch Card Prizes You Can Win
People frequently purchase winning scratch cards without realizing how much it will change their lives. Below are among the few fortunate players who, after investing a small sum in their preferred scratch card game, won millions:
A Lifetime Vacation For $3 Million: Susan Richards made one of the best choices after purchasing a scratch card. The lady noticed the scratch cards and took it as a sign since she had the exact amount of cash needed. A $3 million ticket is what she ended up choosing.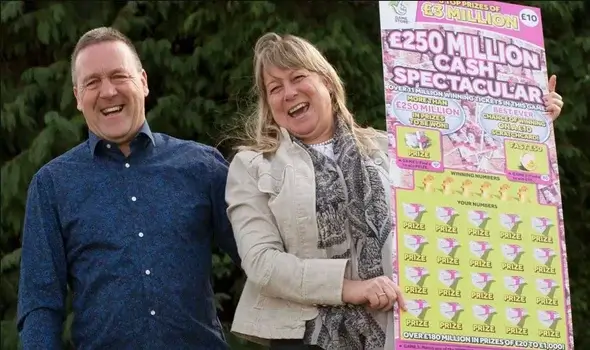 A Kitchen Manager Who Won $4 Million: During his break, Amandou Gillen, a UK kitchen manager, purchased two scratch cards in 2016. The manager won the $4 million on the second scratch card. Gillen was shocked that he returned to work, finished his shift, and quit the following day.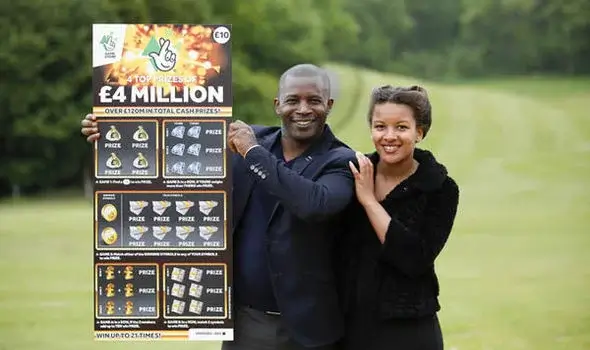 Catch Your Luck: Try Out Online Scratch Cards for Free Right Now!
From the above guide, you can see how Wina Manje scratch card games offer the chance to earn money right away. Remember, each scratch card game has a unique return to the player. When the RTP is lower, you will get lower returns, and the vice versa is also true.
At CasinoHEX, you can play your favorite online scratch card games for free or pick a fantastic South African casino from the list above to play for real money. We also offer informative lessons, techniques you can use to win, helpful advice, and a fantastic selection of online scratch card games. So, join us today and try your luck!